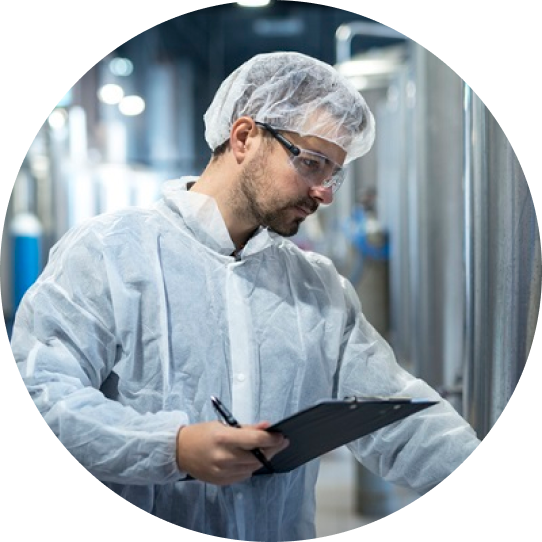 Quality, Food Safety and Environment
Juhayna is fully committed to delivering products that are safe and of superior quality while complying with all International Standards and Local Legislations in order to serve the needs of our customers and consumers inside and outside Egypt. We have developed "Juhayna Integrated Management System" and this represents the platform that guarantees food safety, compliance with quality standards and provides working conditions that are safe & healthy and abide by all environmental regulations. We operate through setting-up integrated supply chains starting from farms (dairy & agriculture) and ending at the consumer. This requires the engagement of all employees across the different departments as it covers all aspects of the production (raw & packaging materials, formulation, procurement, manufacturing, storage, transportation and display at retail points). This allows us to sustainably deliver safe and high-quality products.
The essential elements of our Management Systems are:
Full compliance with all relevant legislation, regulations and Juhayna's internal requirements.
Full commitment to prevent injuries, ill health & environmental pollution across all workplaces.
Providing a safe and appropriate working environment for employees and Contractors working on site.
Implementing an Integrated Management System for Quality, Food Safety, Health & Safety ,Environment and Energy according to the Requirements of: ISO 9001, FSSC 22000, ISO 45001 , ISO 14001 and ISO 50001
Implementing "Quality and Food Safety Management Standards"
GMP: Good Manufacturing Practices, GLP: Good Laboratory Practices,
GWP: Good Warehouse Practices, GHP: Good Hygiene Practices and GAP: Good Agricultural Practices.
Reducing risks related to food safety through application of "Hazard Analysis and Critical Control Points".
Identifying hazards and risks which are related to the Occupational Health & Safety and setting up measures to control them.
Managing Business partners (suppliers and service Providers) in order to comply with Juhayna's requirements.
Developing people skills by providing them with the appropriate training Programs that cover Food safety requirements, Health, Safety and Environment. Also providing programs for Contractors in order to reduce the risks related to Occupational Health & Safety and Environment.
Developing a communication strategy that ensures that we provide the required information and knowledge necessary in the field of Quality, Food Safety, Occupational health & safety and Environment.